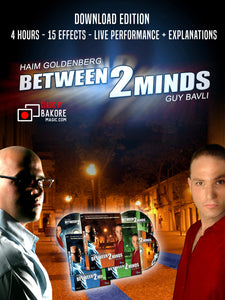 We are very excited to bring you Between 2 Minds.  One of the most produced and revolutionary teaching series of mentalism. We started filmed it in 2005 bringing over a dozen effects and not only performing them in front of a live audience but also getting into a conversation of how to take each effect to the next level.  Between 2 Minds is a boost of creativity and the understanding of how to take a standard effect and changing it to fit your personality. 

Over 4 hours of high produced production where Haim & Guy discuss and teach without any limits. 
You will get a download version of the 3 original volumes. 
Between 2 Minds, is the newest and most creative source for today's mentalism. Haim Goldenberg presents his top-of-the-art effects, suitable for stand up, stage performances, and close up. Each effect is performed in front of a live audience, and then revealed and analyzed by Guy Bavli, as well as Haim Goldenberg.


For the first time, you will be able to see how 2 of the most creative minds in Mentalism today, are brought together to share with you their experience and creativity taking original effects created by professional working entertainers and delivering it to perfection. 4 hours of presentations, demonstrations, discussion and teaching, all new ideas and effects from the mentalism field.

15 effects that you can perform with ease to create sheer amazement. Actually, you can create more then a whole show, with the top-secret effects presented in the new sensational BETWEEN 2 MINDS.

Effects

Video rental
You ask a spectator to name a movie. You ask him to call your DVD rental store and ask which movie you reserved. It will be the movie they chose. No force - No hints - No gimmicks.

Informa-tech
An impromptu tool that enables you, the performer, to secretly transfer information and codes between two people (numbers, letters etc)

Expert deck - impromptu version.
The performer knows the location of a freely chosen card, after the spectator has shuffled the deck.

Envelope Prediction
Performer holds a prediction. He asks a few people in the audience to name numbers. Those numbers are added. The prediction is then opened, to reveal that the total number has been predicted. (No "add a number" gimmicks, no forces, free choice of numbers)

My Precious
Four rings are mixed in a small bags. You then know which ring belongs to which person...and mentally describe in detailed the last ring!

Color Detector
Spectator is asked to freely draw 3 shapes in 3 different colors. You then predict it.

Money-Pulation
Spectator hides a money bill in one of 10 envelopes. You then mentally know which envelope is the one with the money. Great gambling effect.

Switcher
A switching tool that will help you create dozens of ideas and routines.

Serial Contact
The performer predicts a serial number of a borrowed bill from the audience. No switching, the bill is random.

Transparent Thoughts
The performer predicts a full description of a spectator, freely chosen by the audience. This secret will give you dozens of ideas and effects you can perform.

Index Picture Duplication
A very clever way to duplicate a picture secretly drawn by a spectator. Perfect for close up!

If you are not yet a trusted friend of Bakore Magic YET, you will need to verify yourself in a 2 min simple process after yoru purchase. This is a one time process only.