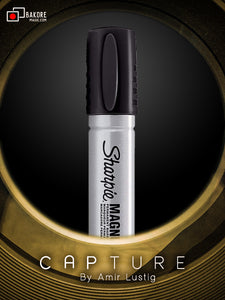 NOW AVAILABLE ONLINE ONLY AT BAKORE MAGIC!!!!
SOLD OUT AT BLACKPOOL CONVENTION 2023!
If you like to be bold and have a tool in your hand, tHat will enable you to "read people's minds" on the go... CAPTURE IS FOR YOU!
Imagine that you ask someone to draw a picture on a notepad just in front of you. You cannot see what he is drawing, but you will be able to know immediately.
Imagine that you stand with your face to the audience while someone is drawing an image behind you! You don't turn around or look, but you are able to see it immediately!
Capture is an OLD tool with a new practical design that is a true game changer! 
Practical is an understatement. 
Carry it with you and perform it anywhere you go.
It comes complete with everything you may need to perform it.
This is another www.BakoreMAGIC.com exclusive!
Capture is a physical product, not a download.
Here are few common questions answered about Capture:
Q. What is CAPTURE?
A. Capture is a gimmick you can always have handy, enabling you to perform picture duplications efficiently and directly. All you need to carry is a Magnum Sharpie Marker, and you are all set!
Q. Are any Forces used in CAPTURE, or is it all FREE choice of a drawing by the spectator?
A. There are NO forces or pre-shows with CAPTURE. Your spectator freely draws anything they want. 
Q. Do I need to have an assistant help me?
A. You do not need an assistant to CAPTURE. It is SOLO operated.
Q. How big are the props I will need to carry?

A. Only a magnum Sharpie Marker and the secret gimmick.
Q. Is there any electronics involved?
A. No electronics! It will work 100% of the time if you perform it correctly. 
Q. What is the difficulty level of performing CAPTURE?
 A. CAPTURE is easy. There are no special slights or skills you need to have. It is more timing and presentation that you will need to perfect. 
Q. Will I need to purchase anything else to perform CAPTURE?
A. There is No need to buy anything special. And there is no DIY. However, you will need to have a paper pad. A normal 6x9-inch (roughly A5) or 8.5x11-inch (or A4) pad can work great. No gimmick for that!
Q. How much setup time do I need to perform CAPTURE?
A. No setup. If you have your gimmick handy, you are ready to perform. Then, when done, you are immediately ready to go again as desired. 
Q. Is CAPTURE only for picture duplication? Or can I also perform numbers or words?
A. Technically, you can ask your spectator to draw or write anything, but it will be easier for you to do Picture duplication. Numbers are possible with a bit of practice, and words you will need to practice a bit more.

Q. Will I get the Magnum Marker when I purchase CAPTURE?
A. Yes, the marker and gimmick are supplied!
Q. What happens when I need a new Marker?
A. The Magnum Sharpie is un-gimmicked, so you can buy it anywhere when needed. 
Q. Is CAPTURE more suitable for close-up / walk-around or stage performances?
A. Capture is for both. It is fantastic for walk-around and also for stage presentations. You will learn a few different techniques, each suitable for different situations
Q. What is the difference between CAPTURE and other picture duplications on the market?
A. There are so many picture duplications on the market. This one is out-of-the-box, different than most other gimmicks. It is NOT a clipboard and uses no electronics or carbon copy techniques. 
Q. Is there any new method used in CAPTURE? 
A. CAPTURE is based on an old method that was re-designed completely to make sense!
Q. Can I perform CAPTURE surrounded?
A. Yes, you can perform it surrounded. We do it with strolling performances. You must get comfortable with it and have the right timing and presentation. 
Q. Does the spectator have to give you his paper or pad after he draws?
A. No! You do not take the pad or paper away; these stay with the spectator constantly. 
Q. Do you ship internationally? And how much for shipping?  
A. We ship internationally. Add to the cart, and choose your shipping methods during checkout.
Q. Where can I get CAPTURE By: Amir Lustig
A. CAPTURE is only offered exclusively by us on www.BakoreMAGIC.com and nowhere else!