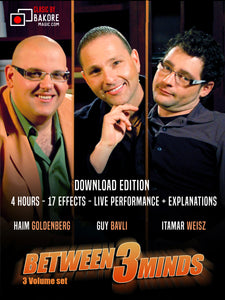 We are very excited to bring you Between 3 Minds.  One of the most produced and revolutionary teaching series of mentalism. We started filmed it in 2005 between 2 Minds, and following its success we brought Between 3 Minds in 2009, this time adding a 3rd mind: A TV DIRECTOR.  Bringing 15 effects not only performing them in front of a live audience but also getting into a conversation of how to take each effect to the next level.  Between 3 Minds is a boost of creativity and the understanding of how to take a standard effect and changing it to fit your personality. A point of view from a TV director who worked on dozens of magic specials trying for the first time ever to perform himself, experiencing it from the other side. 

Over 4 hours of high produced production where Haim & Guy & Itamar discuss and teach without any limits. Also few bonuses - see below all details.
BETWEEN 3 MINDS:
Following the world-wide success of the breakthrough DVD, "Between 2 Minds", and demand for even more, comes an all new production to exceed the expectations of mentalists and magicians everywhere...
Between 3 Minds is a new Pro-Magic DVD series which brings you some of the most innovative ideas in professional Magic and Mentalism today!

Jay Lavli and Liam Gold (Names has changed to protect the innocent) have joined forces this time with a Third Mind: Itamar Weisz. Mr. Weisz is an internationally acclaimed TV and stage director who has worked with some of the top Magicians and Mentalists in the world. His insights on presentation and television strategy make this new production unique in the field.
You will get a download of the 3 volumes. 

Between 3 Minds teaches killer effects and routines that you'll want to put into your performances immediately, but it also addresses important presentation and showmanship ideas that will impact your own work for years to come.

A full discussion on each powerful effect on these 3 set DVD and how to maximize their potential makes this an exceptional value. But included here is a twist and a surprise on the third DVD that will touch on a whole new different aspect of magic never explored on a DVD before!

Between 3 Minds includes a special guest appearance and discussion with acclaimed mentalist and author, James Biss. Mr. Biss performs and discuss his engaging "Spooning" routine and also tips his closely guarded and invaluable Remote Control Change Pack secrets.

This is one of the BEST produced DVD's in magic produced at that time. It's loaded with real world knowledge and practical wisdom in a quality video format. There are ideas here that will change the way you approach your work ...

Here are just some of the effects you'll learn:

DVD Vol 1:

Whistle Whistle: Five whistles are presented to a group of spectators. Four don't work and one apparently works normally. Your audience members choose any four and you are left with one. You 've bet your money that YOU will get the one who works - and you don't even touch the whistles!

Write Away: A freely chosen word, chosen by a spectator, appears in the performer's wallet.

Smell-O-Rama: An amazing routine where the performer influences the sense of smell of audience members.

Bookdex: A clever way to perform a book-test or any other effect using a secret something ... (you'll need to watch the DVD to see how ingenious this is!)

Cooler I.D: The Performer is able to detect the phone number of a spectator from the audience in a whole new way.

Future Duplication: Not just another picture duplication! A new way to predict a drawing or a word freely written by a spectator - ahead of time!

DVD Vol 2:

Peek-Card: A freely chosen card is placed into a wallet by spectator, yet the performer is able to detect the chosen card. A terrific twist on a pick a card effect!

Walter: A clever wallet that you can easily make that enables you to duplicate pictures and words at any given time and place.

One Bill Monte: An amazing routine that enables you to win any gamble with paper money and a few window envelopes.

Impromptu Invisible Deck: Perform the invisible Deck using a REGULAR deck of cards that you don't even touch!

Scent of a Woman: Test your senses as you find two chosen cards from a deck, using nothing but your sense of smell.

DVD Vol 3:

Weisz Dice: An innovative reworking of the famous Dice in a tube effect with a twist!

Divided: The Performer is able to divide cards into black and whites behind his back after cards has been shuffled by an audience member. Out of this world card magic, standing up!

Perfect Time: An impromptu method to perform a Perfect Time effect. A spectator is called upon to be the heckler in the show and to stop the performer at any give time. When he does, the performer has predicted the exact time he was stopped - using a normal, examinable, clock.

Any Card Any Time: Members of the audience call out the names of several cards and these cards are taken out of a paper folder. But the whole deck isn't there. It's just those few cards!

Spooning: James Biss's presentation and discussion about showmanship and his take off on Jay Lavli's traditional spoon bending routine.

Remote Control Packs - an AMAZING hands-off switching envelope by James Biss that will blow your mind with its potential.

* If you are not yet a trusted friend of Bakore Magic YET, you will need to verified yourself in a 2 min simple process after yoru purchase. This is a one time process only.