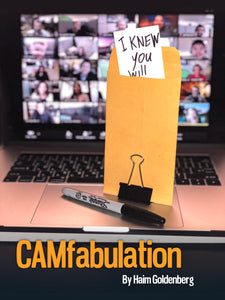 The ultimate way for online Mind-reading demonstration
that looks like real telepathy.

During the video call or online presentation, the mentalist placing a sealed envelope between him and the camera. (in full view all the time). From now on, till he will open it, he will not touch it.
The volunteer in the other side of the line is asked to think of anything (name, number, simple drawing, etc.).
After the volunteer reveals what he thought of the mentalist opens the envelope and takes out a piece of paper with the word/number/drawing on it.

CAMfabulation maximizes the advantages of the media while keeping the integrity of the effect. Just minutes after you learn the secret you'll be able to do it yourself. From that moment you are going to use it in every video chat you make - it's that good.

No nail writer
No helper
No pre-show
Super easy & clean clean clean.

"I created this effect because of the need of mentalists and magicians to perform online in front of a camera, now more than ever. This is my go to effect in every video chat: minimal effort, maximal impact".