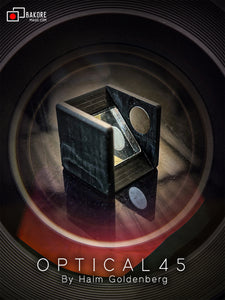 Drawing duplication is one of the classics of mentalism.  But OPTICAL 45 is much more! This will give you eyes where you need them. For live on stage, pre-show, behind you, and more...
There are many ways to duplicate a drawing or know what people write on a board.
OPTICAL 45 is a new method that is completely surprising and original to duplicate an image someone is drawing or writing on a board.
It does not end here; you can also use it for pre-show in the most secret way.
And there is more; you can use it anywhere you go if you have your phone and our newly designed gimmick: OPTICAL 45. 
The secret is high-tech, but the gimmick is low-tech
Place it on your key chain and carry it anywhere you go.
Use it in business meetings, restaurants, or on stage; choices are endless.
Optical 45 can help you know what's happening behind you or when you are not there. It is in front of people, but they will not notice it. 
Optical 45 uses your smartphone (nearly every model). You have options to use one device, two devices or your device and a smartwatch. The choice is yours.
This is a physical product and not a download; we will ship it to you according to your chosen shipping method. 
Exclusively sold only on www.BakoreMAGIC.com