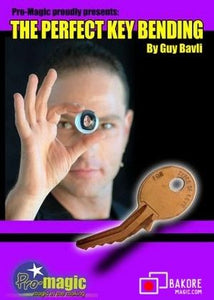 AN AMAZING KINETIC EFFECT WITH A REGULAR KEY!!!

Use almost any volunteer's key, and bend it in their hand!
It was hailed by many as the most practical and clean key bending gimmick of all times.
With Guy's Perfect Key Bending, you can do more than the standard key-bending magic.
This unique method that became classic lets you bend nearly any key, anywhere, either in your hand or the hand of a spectator.
Includes everything you need to perform this unique effect, including tips, tricks, routines, and other performance suggestions, all in a booklet.

The only thing you will need to supply is a key that you can borrow as a spare key from the audience or bring a bunch with you and have the spectator choose one.
Key can be examined before and after performance!

No sleeve needed, No switching, No gimmicked key, No hassle.
You can have someone sign the key and then hand it to him as a souvenir after the presentation.
Bakore MAGIC in collaboration with Pro-Magic - limited availability.
This is a physical item, not a digital download.