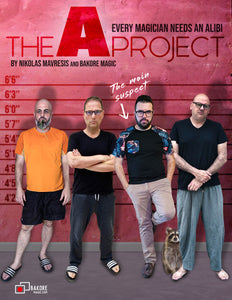 The A Project By Nikolas Mavresis & Bakore MAGIC.


Since the BM project we were looking for a project that can excite us even more. We finally found it. 

The A Project is a revolutionary new concept that makes the impossible a reality.  These powerful effects were previously only possible with the help of stooges or assistants, but with The A Project, solo performers can now perform stunning miracles for any virtual show.
This is not just a collection of tricks, it is a powerful concept that can transform any effect into a mind-blowing experience for your audiences!
In the project, you will learn FIVE incredible routines such as the following:
The Ultimate Book Test: 
You display a few different books and your participant chooses one randomly.  This book is placed aside and the participant is asked to imagine opening to ANY page and thinking of ANY word that comes to mind.  There is an envelope that has been sitting on the table in full view right from the start. Inside it, you show that there is a single page ripped out of a book... but not just any book - it's the book that the spectator chose!  Not only that, you now reveal that the page number of the ripped page matches the one that the participant chose!  And for an impossible kicker ending, you reveal that one of the words in the text is circled and it is the EXACT word that the volunteer thought of! 
This is merely one example of what you can do with the principles taught on The A Project.
You will also learn the following:
- Predict any freely chosen word that spectator is thinking about – while showing him a scramble drawing that was in front of them at all times.  
- Magically solve a Rubik's cube which is mixed as instructed by volunteer. 
- Baby gag on steroids.
- Predict the name of a chicken inside the egg shell!
You will also be granted exclusive access to the Facebook group which will be loaded with new ideas, routines and applications from the creator and community!  You will even learn some clever applications on how this can be done live for stage performances.
Important notes:
- No pre-show
- No stooges
- No forces
- No assistants
- No trapped doors
- No Black Art
- Easy to do and Easy to perform
The possibilities are endless for both magicians or mentalists to perform nearly any effect they can imagine using the A project concept.
The A project was designed for virtual shows (OBS / ECAMM or other programs of your choice) but also there is a way to perform it in live shows if you are using camera and screen.
Nikolas Mavresis together with Haim, Guy and Amir will bring you a detailed instructional video, simple to follow, including more files and resources in the Exclusive FB group to perform the A project in a very easy way!
The A project exclusively sold on www.BakoreMAGIC.com and no where else. If you see it at any other website for a lesser price, it is a stolen product that will NOT be supported by Bakore MAGIC and the creators, as well as, no access will be gained to the Exclusive Facebook group for the many additional information you will need.  Respect the creators and buy only original!!!
You will need to verify yourself with our system as a trusted friend of Bakore Magic in order to receive the files. A simple process that will take 1-2 min to complete.
We at Bakore MAGIC are dedicated to bring the highest level of magic that will transform your show and give you the best solutions for your designed effects. We are geared for professionals who respect and support each other.
Get The original A Project today and take your virtual show to the next level!
Only $59  ($69)