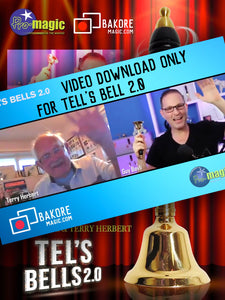 If you already own the TELL'S BELL 2.0, you can now purchase the new Download video with full instructions by GUY BAVLI and exclusive interview with TERRY HERBERT the creator of the TELL'S BELL!
In this 57min download video you will learn how to operate the TELL'S BELL, and have the opportunity to be part of rare interview with Terry Herbert, one of England's premier comedy magic icons.
Stories from over 70 years of magic carrier
Tips and ideas for the bell
Learn how to transform your Gimmicked bell into a normal bell that can ring all the time, and when you choose, you can make it back a Bell that only you can ring. 
This is a DOWNLOAD VIDEO not the actual Bell. If you are interested purchasing the TELL'S BELL 2.0 go to THIS LINK! 
New purchases of the actual TELL'S BELL 2.0  will come with the Download file FREE!