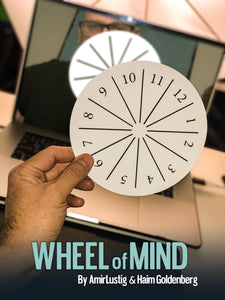 Wheel of Mind - The ultimate forcing tool

The Wheel Of Mind is not just an effect, it is a forcing tool. The innocent looking, wheel-of-fortune-like wheel enables an easy force of any information in a visual yet easy manner.
The advantage of The Wheel Of Mind being a prop is that the performer can use it for various different routines - so easy to do - so very effective!
More than 20 years ago the Wheel of Mind came out to the magic world as a product with rave reviews.
Now BakoreMagic.com decided to bring it back in a smaller size and perfectly designed to be able to perform in your Virtual shows, as well as, your Live events.
What you get:
* Downloadable video with specific performance instructions by Amir, Haim & Guy.
* Tips and ideas on different performance styles.
* Downloadable digital file, enables you to print and make the Wheel of Mind at home in less than 10 min.